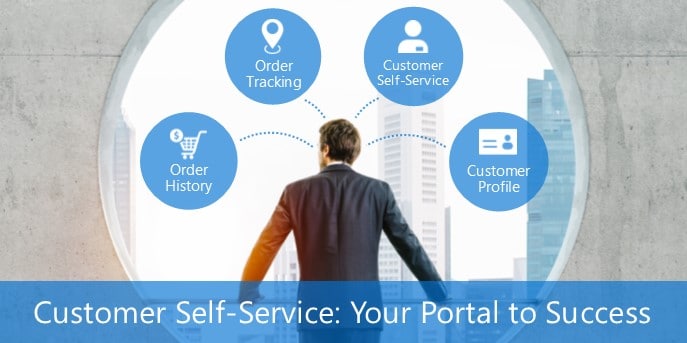 Customers expect an integrated experience throughout their journey together with your business, which means being omnichannel in your approach, omnichannel in your buying, and omnichannel in your support.
Basically, you've got to support your customers wherever they'll be. 
One important avenue for that (especially for as a service companies, e.g. SaaS, PaaS, IaaS, etc…) is self help, service, and support.
And as another bonus, self-service portals are one among the sole channels that have emerged that deliver the experience customers want and improve your bottom line.
What is a self-serve portal?
Before we get into the way to develop a self-serve portal, we'd like to know what we're building.
A self-serve portal may be a gated, digital system that permits customers to unravel their own problems without contacting your company. These problems could be basic access things, like resetting passwords, to more complex challenges like troubleshooting a specific issue, discovering product maintenance tips, or learning about additional functionality. While many companies have them, self-serve portals are especially common for tech companies.
Step by step guide to developing a self-serve portal
Define your scope
Self-serve portals are available in plenty of different flavours. Some are simple, basic answers to common questions. You regularly see these for relatively simple software products where the stress is fairly low. An honest example of this is often Hotjar's customer portal. While they are answering tons of questions, that's about all it does. 
The other version of self-serve portal is more of a community approach. This is often where the portal acts as both a portal and a forum for discussion, product feedback, new ideas, and user-generated solutions. HubSpot help centre may be an exemplar of this, and even includes access to HubSpot's training and certification programs.
So the very first thing you would like to try to do is define your scope. Are you building an easy place for patrons to travel to find out the way to solve specific problems? 
Or are you building something more robust, with user engagement, forums and discussion threads staffed by experts, and extra exposure to best practices and knowledge on the newest and greatest? 
Both answers are fine, but you would like to make sure you (and your stakeholders) know what you're stepping into. 
In general, if this is often your first raid self-serve portals, then persist with something simple. If a community is a component of your long-term growth strategy, then investing early in your own infrastructure may be a good idea.
Pro tip: communities take tons more work than anyone thinks they're going to. Tread carefully if you opt to travel that path.
Assemble your content
Regardless of which type of self-serve portal you opt to create, you're going to need to fill it with something. 
This is your content, and it's the guts of your self-serve portal. It's what everyone actually cares about, so it's critical that you simply build this right.
First, compute what kind of content you would like to create . Start together with your FAQs – what comes up all the time? Ask your support and customer success teams what emails they need saved as templates — which will tell you what people invite tons . you would like to possess an enormous list of questions you're getting to write content to deal with .
Next, compute how you would like to arrange your content in your portal. Take a glance at other portals out there for ideas, but really this type of sorting task is usually very subjective. So take a crack at it yourself, but get other material experts and designers involved. Then, show your proposed approach to your actual customers. They're those who need to use this — confirm your plan is sensible to them.
Finally, have a look for your content. determine from your big list what you've got, what you would like to build, by whom, and when.
A few key things to remember:
Get your content plan sorted before you begin making anything. Spreadsheets are an excellent thanks to start.

Dig hard for content — the more you discover , the less you've got to make 

Think about additional formats — sometimes, a diagram or video may be a lot better than a wordy article.
Build your portal
Finally, you would like to truly build your portal, and convey altogether your content.
There are two main paths here.
First, you'll get an out of the box portal. Zendesk, as an example , may be a common tool. Alternatively, you'll check out your existing technology stack and see if there are any add ons you'll leverage without buying a further solution. Buying a tool is usually to get you a self-serve portal faster, but at the value of customization.
The second option is to create it yourself. For an easy portal, the online development lift (especially if you've got a strong CMS) are often quite small. So, if you've got those resources internally, this might be an option you would like to pursue. However, it's likely to require longer, and should find yourself being difficult to take care of in the future (more thereon during a minute).
Promote!
A portal that nobody uses is utterly useless.
So now that you simply have yours, it's time to inform your customers about it.
And that means you would like to urge people visiting it and, more importantly, visiting it first to ascertain if their answer is there. Here's how you are doing it:
Get your support teams to link to the portal wherever possible.

Add portal links to any automated email communication to customers

Add links to your support team's email signatures

If possible, index your portal, so customers can type their questions into Google and find yourself in your self-serve portal

Add a link to your portal on your website

Run customer marketing that redirects users to the customer self-serve portal
Unfortunately, there's no possible way to market your portal from a paid perspective. After all, people will only go there once they have a drag. For that reason, it's more about building the motor memory in your customers to travel there FIRST instead of pushing out your message across other media channels.
Closing notes: maintain, maintain, maintain!
And there you've got it. A gorgeous, helpful, essential customer resource that also frees up your customer support team to specialise in high value problems.
But there's another thing you've got to try to do. Maintain. Your. Portal.
There's nothing worse than finding the answer to a drag only to find that it's not accurate anymore because it had been written several releases ago.
So confirm that you're constantly updating old articles, refreshing best practices, and adding new problems that come up as you go, and your portal is going to be a real value-add for patrons.