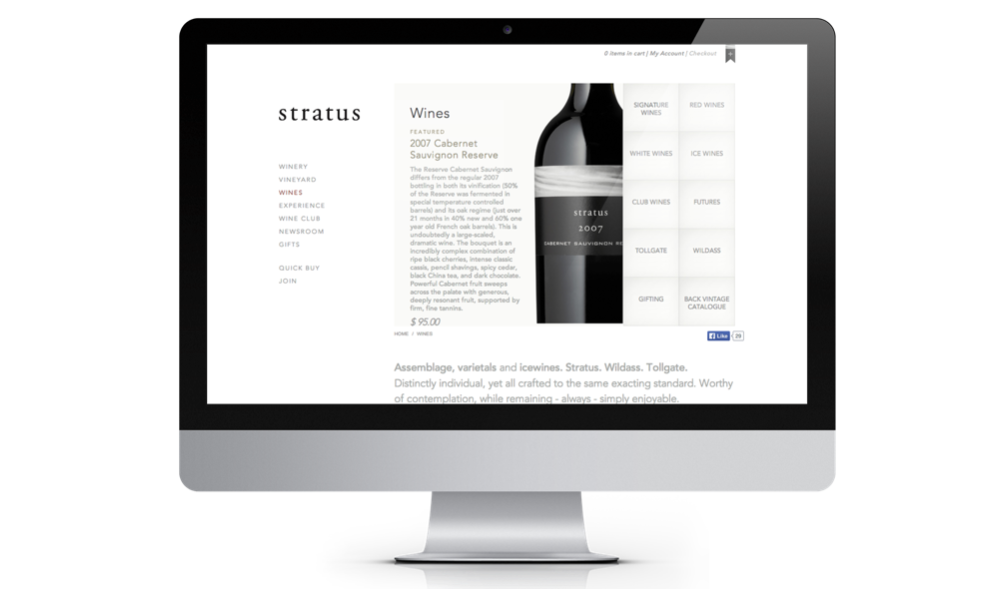 At The Works, telling a good story lies at the heart of everything we do: you could call it our master best practice.
So, how does this apply to best practices in digital design? Simply, it comes down to figuring out how content, form and function need to work together to tell a client's story in the most engaging way. The award-winning website which we helped build for Stratus Vineyards embodies our approach, and demonstrates how components like e-commerce functionality can form important elements of a client's story.
Stratus Vineyards produces limited quantities of critically acclaimed ultra-premium wine from its pioneering, LEED-certified facility in Niagara-on-the-Lake, Ontario. Everything about Stratus is done to meet the highest standards. So, when The Works was engaged to create Stratus' new corporate website, we knew from the outset that their defining passion for excellence had to be reflected in every aspect of the user experience.
A comprehensive brief – one that not only explains the client's expectations regarding deliverables but also conveys the core elements of the client's story and brand to be reflected in that deliverable – is the cornerstone of every project at The Works, and an essential part of our best practice. Making sure that client objectives consistently inform content and functional decisions may seem obvious, but in a project with many potential creative avenues to explore, it can be easy to become sidetracked. Conducting regular reviews to make sure a project stays on brief doesn't limit creativity; instead, it focuses creative energies to maximum effect.
And so does forming integrated, multi-discipline teams focused on ensuring that content, form and function work seamlessly together. During the initial concept development phase, we had a designer, a writer and a developer work together, generating ideas and establishing a strong through-line that, like a central narrative, would run throughout the site. This collaborative approach delivers benefits in all phases of the design and development process: it helps ensure that, as they are completed, all project elements fit together smoothly, and support the team's progress toward a common goal. Put simply, it helps you keep your story straight.
One of Stratus' primary goals for its website was that, as far as possible, the online buying experience would be like purchasing wine at the vineyard's boutique. The Works needed a partner for this part of the project, and after extensive review, chose Moveable Online. Moveable's Advantage WebStore e-commerce platform blended effortlessly with our design, and supported features such as detailed product information, winemakers' notes and suggested food pairings for each wine – the kind of expert knowledge that the staff at Stratus share with buyers.
The Work's flexible, multi-discipline team approach is designed to accommodate input from many sources, which makes it easy to work with external partners like Moveable Online. The benefit of this best practice and of The Works' commitment to storytelling is demonstrated by the success of the Stratus website. Recognized for raising the bar in elegance and functionality, the new site was warmly received by Stratus customers, and in 2012, was named on Internet Retailer's annual Hot 100 list.